"Two roads diverged in a yellow wood", or should we say multiple roads as a myriad of pre-university pathways lie before you gain entry into university.
And with each route singing a different tune, the decision is yours to determine which melody is most suited for you. Luckily, here's a guide to all you need to know and help you decide.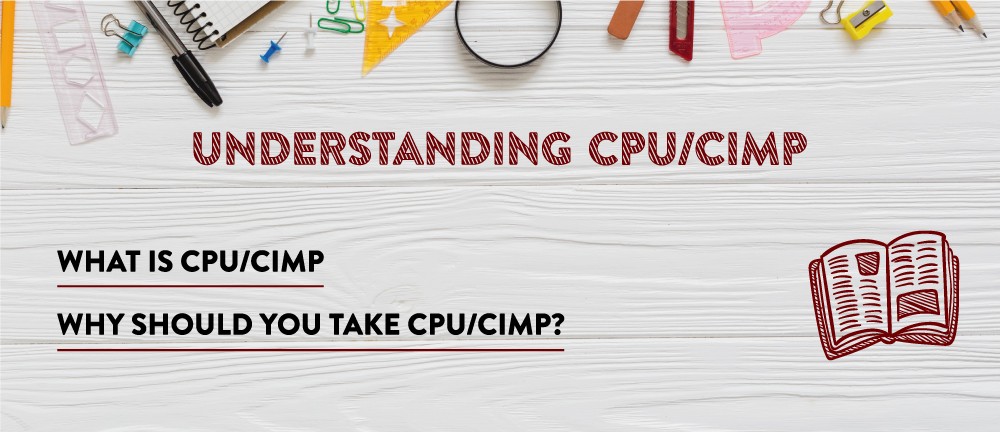 What is CPU/CIMP?
You might see the terms Canadian Pre-University (CPU) and Canadian International Matriculation Programme (CIMP) around and wonder how do they relate? In fact, they are both the same.
The CPU/CIMP is a Year 12 secondary school curriculum delivered according to the requirements of the Ontario Ministry of Education in Canada.

Upon completion, graduates earn the Ontario Secondary School Diploma (OSSD) which is globally accepted as an entry into universities.
What is Uni Enrol
Uni Enrol is an online platform that makes higher education more affordable for students. Use our Pathway Match tool to get matched with scholarships, exclusive deals and courses.



Why Should You Take CPU/CIMP?
Unlike other pre-university programmes that are exam-oriented, the CPU/CIMP focuses on the application of knowledge, skills and attitudes from the Canadian curriculum.
It encourages you to demonstrate competency in real world applications through projects, debates and presentations.
It also emphasises transferable skills such as critical thinking, innovation, creativity, communication and collaboration.
The programme offers the flexibility to choose from a wide range of subject options with some colleges more than 20 subject choices! +
The programme is recognised globally with many students gaining entry into universities in Canada, Australia, New Zealand, US and UK. Many local institutions also accept this qualification.
Additionally, 80% of the CPU faculty at most local colleges are Canadian-certified lecturers. They are specifically trained to create engaging learning environments, challenging you to be dynamic and creative so you are truly involved in the subjects that you are learning.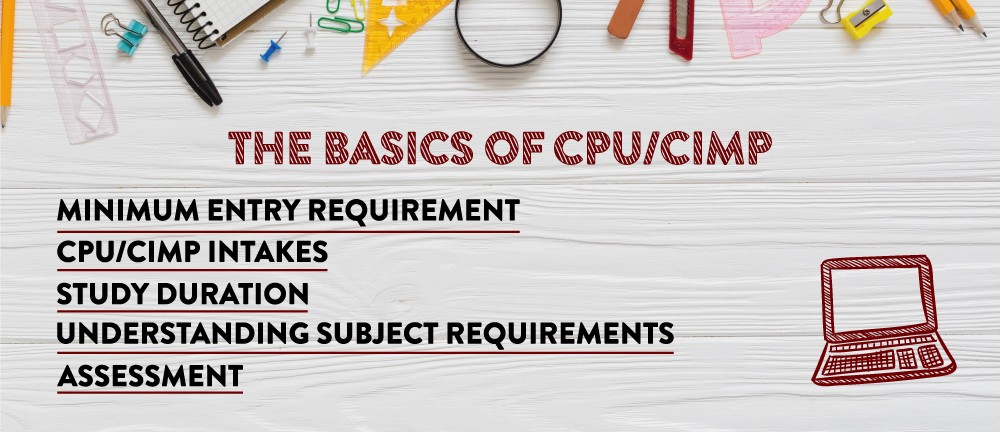 Minimum Entry Requirement
A pass in SPM, O-Level or equivalent with a minimum of 5 credits.

CPU/CIMP Intakes
Depending on the university, the biggest intakes are usually in January, May, July, or September.
Study Duration
The programme's duration is between 12 and 15 months.
Some universities offer an extended or accelerated path of 15 and 9 months, respectively.
You can talk to one of our counsellors to find out more about these pathways.
Understanding Subject Requirements
Colleges that offer this programme will get you into popular fields such as Business, Finance, Accounting, Engineering and Science.
While it gives you the opportunity to pursue your passion, choosing several essential subjects is vital to allow you to pursue your degree of choice later on.
The choice of subjects varies according to the institution. Here's a general list of subject choices: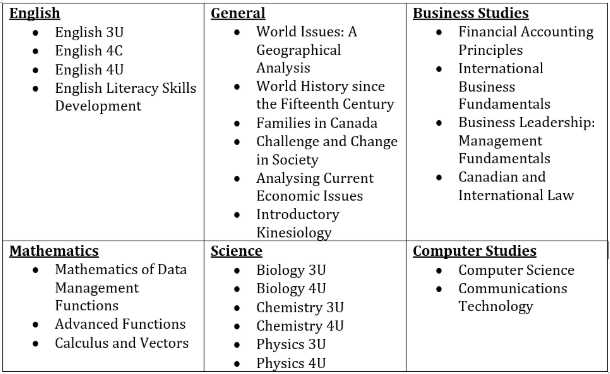 Subjects are delivered on a modular basis, meaning you will study and complete several subjects in one semester before moving on to take another set of subjects in the following semester.
Ideally, you will take 2-3 subjects per semester, but you will have the flexibility to decide how many subjects you would like to take.
Students are advised to select subjects that best suit the entry requirements for their university studies. Take a look at some examples below:
Medicine: Biology, Chemistry and Mathematics of Data Management
Engineering: Mathematics of Data Management, Advanced Functions, Calculus & Vectors, Physics, Chemistry
Accounting & Finance: Mathematics of Data Management
Computer Science & IT: Mathematics of Data Management, Advanced Functions
It is possible to take an Arts Degree if you had taken Science subjects, but not the other way around.
All students who enrol in the CPU/CIMP will sit for an English Placement Test (EPT) where the result will determine their placement in the CIMP English programme (ENG4C or ENG4U).
Students who do not meet the minimum English literacy requirement will complete one semester in Intensive English Programme (IEP). They will then proceed to study 2 semesters in CIMP.

Assessment
This programme practises continuous assessment instead of a final examination.
Assessment is based on 70% formative assessment including tests, assignments and daily work, and 30% final exam and/or culminated activity.
This evaluation method places a much greater emphasis on student involvement in the teaching and learning process throughout the programme.
You will be graded on criterion-based assessment using the Ontario Rubric:

Knowledge/ Understanding

Thinking/ Inquiry

Communication

Application
Your final results will be an average percentage across all 6 subjects taken, and the maximum score is 100%.
To graduate, students must successfully complete the following:

6 pre-university courses including ENG4U or ENG4C

An external literacy test (OSSLT) administered with the Ontario Ministry of Education

10 hours of approved community service (yes, you will gain social experiences in this course as well)
University Fees
You can pursue the CPU/CIMP from various private institutions in Malaysia. Here is a list of institutions you can consider applying to.
Stradford International College: RM 26,930




President College: RM 28,000




Sunway College: RM 32,950 – RM 34,350
Please note that fees are subject to change.
If you need more guidance on the options available, you can contact our experienced counsellors.
Scholarships
If you think this programme is out of your budget, there are scholarships available based on your SPM results.
Here is a rough estimate of scholarships you would be eligible for.

Use our Pathway Match tool to save more on your CPU by getting matched with scholarships and exclusive deals.