The past year has been challenging, to say the least. For the first five months of the lockdown, it was as though the Earth stood still. To many, life did halt to a stop and did not pick back up like many wanted to.
For some students, it was the sudden switch to online learning that majorly impacted them. For other students, it was the constant postponement of major exams. All plans for further studies and graduation had to be put on hold until it was OK for them to proceed.
At University of Southampton Malaysia (UoSM), 3 students shared their distinct experiences during the Covid-19 pandemic.
Online Learning Was Not Easy for Some
Muhammad Aiman Hafiz Bin Marakar, a first-year student in MEng. Electrical and Electronics Engineering, said it was quite a steep transition switching to online classes.
"Before the MCO, I was able to meet up with my friends and have our discussions together. This effort however is continued via online platforms such as Microsoft Teams. We explored some other alternatives to make our discussions more interesting, such as using Miro for brainstorming."
He added: "One of the benefits of having online classes is we have some extra time which we usually spend commuting to campus and waiting for each lecture session. The extra time is used to revise every day's lecture and prepare for the next lecture."
For Engineering Foundation Year student Kaviratna Narayansamy, it was not easy to study online due to the minimal human interaction even though she had balanced her schedule.
"There were days that I felt completely unmotivated and drained out staring at the screen for long hours; however it is alright to feel that way and I have learnt that everything takes time and patience," she said.
She would either look away from the screen or walk around her room to get herself back on track.
Things were not as gloomy for Duaa Saleem, a first year student of BSc. Hons. Business Management.
"In my first year at the university as an international student, adapting to an online mode of learning gave me a buffer to transition smoothly from the school life to university life without being away from my near and dear ones," he said.
"Everything is literally a click away and I feel that I am able to practice effective time management as well."
Multiple Tools Used to Enhance Online Learning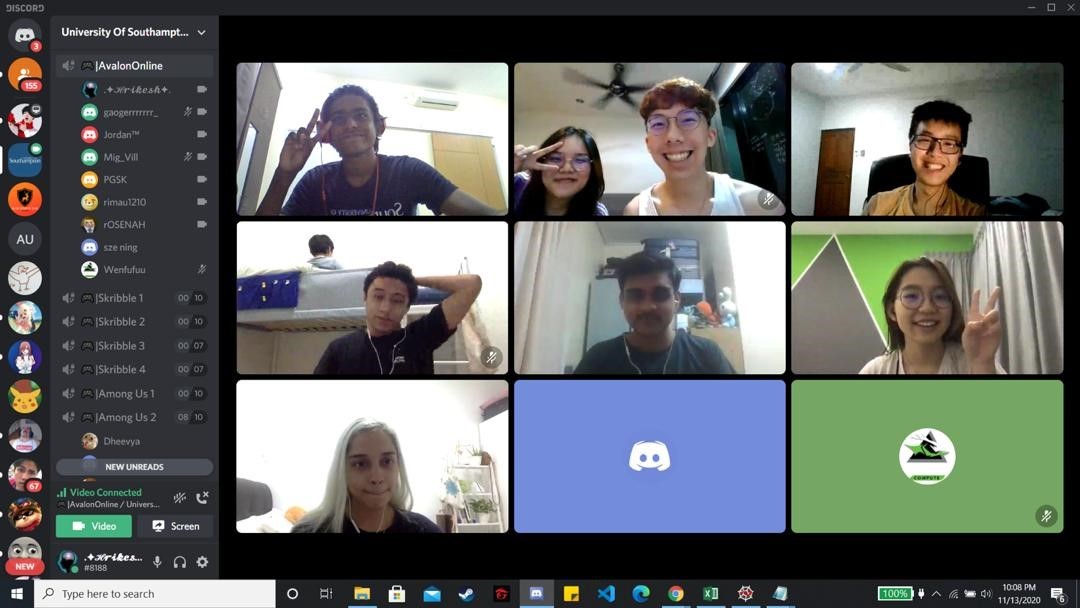 For Muhammad Aiman Hafiz, tools such as Microsoft Teams and Zoom were most useful for the lectures, tutorials, and labs while WhatsApp and Discord were used to supplement the communication among the group.
The UoSM lecturers also introduced other tools such as CircuitVerse.org, Miro, Microsoft SharePoint Site and Vevox to make their learning more interactive and engaging.
"Our university provided us a BitScope which works as an oscilloscope and power generator to help us conduct our labs remotely. I really appreciate the efforts put by our university especially when comparing with my friends from different universities that just have their labs sessions as simulation sessions. I am very grateful for the support given."
When it came to studying, Kaviratna uses an iPad and laptop most. Apps such as Notion, Notability, and Good Notes 5 were her go-to tools because they were easy to use.
"I believe the university has played a very important part in making sure that we (students) do not feel too stressed out during this hectic period. The lecturers have supported us by making sure we are fine and safe while they also took the initiative to make their teaching sessions as interesting as possible."
When it came to tools used for online learning, Duaa utilised all the resources that were made available by the university.
"SOTON has been exemplary in their support towards me as an international student. They have adjusted the timetable that fits perfectly with my time zone. If ever I have an issue, my personal tutor is always there to help and resolve the issues."
Having Support, Being Creative Key to Keeping Up During MCO
Like many students, Muhammad Aiman Hafiz struggled to adapt to the new norm. Support from parents and lecturers were some of the reasons he was able to cope with the current scenario.
"At first, it was a bit tough for some subjects, but with the recorded lecture provided and lecturers ready to answer and explain more, everything became better. Now, online learning is a normal and no longer stranger to us."
Kavitrana, too, struggled with lack of motivation and feeling burnt out but she soldiered on.
"I always make it a point to make my study routine as fun as possible by incorporating rewards for myself at the end of my study sessions. Apart from studying, I also make it a point to do things that I love as well."
On the other hand, Duaa did not face as much adversity.
"Due to the support and tools provided by the university, I have been able to work with concentration during the classes and have been able to make timely submissions of assignments and assessments."
Pro Tips For Prospective Students
For students about to enter university, Muhammad Aiman Hafiz offered this advice: Don't be afraid to ask questions. He also added that it is important to have friends who can help you make the right decisions.
Duaa echoed Muhammad Aiman Hafiz's advice. "My advice to them would be to be vocal about the problems they face so that the issues can be addressed immediately."
Kaviratna wrapped it all up by offering this: "Take everything light and never think of anything as impossible or hard to achieve."
How UoSM is Combating Covid-19
The UoSM is providing saliva testing kits for staff and students at the UK campus as one of its efforts to fight the spread of the virus. The university also makes information and resources on Covid-19 available to staff and students.
When it comes to learning, lab activities are delivered digitally to miminise disruption to students' learning. When students need help with their studies, they can utilise the Personal Academic Tutor (PAT) scheme.
Want to know more about the Foundation courses at University of Southampton Malaysia? Get started here!