By now many people would have told you why studying a particular course is best for your future. Do you know what career suits you best?
Maybe you are currently enjoying the holidays and are in no hurry to figure out the next step for your education. After all, you've just spent the last 2 years taking exams to prepare for another exam.
Whether you have something in mind or not looking at all, come visit us at any of our 40 Scholar Search events.
Here you'll find the lowest cost for your higher education, your most suitable course and uni, and even special savings when you register through us!
Our counsellors will help you decide what to study, how to fund your studies, and let you know of your career options after graduation. We work with over 60 private universities and colleges that offer over 4,000 courses for you to choose.
Curious about our event? Here's what you'll get at our Scholar Search:
Clear understanding of your higher education options
Professional, unbiased advice from experienced counsellors
Your personalised scholarship and course matching report
Access to exclusive deals on accommodation, transportation, and IT gadgets
We bring over RM15 million worth of scholarships and bursaries to students in 40 locations nationwide. This is your golden opportunity to speak with your counsellors, get your free scholarship report, and find a uni and course that suits your budget, interest, and other preferences.
Come check out our Scholar Search dates and location and register for one near you!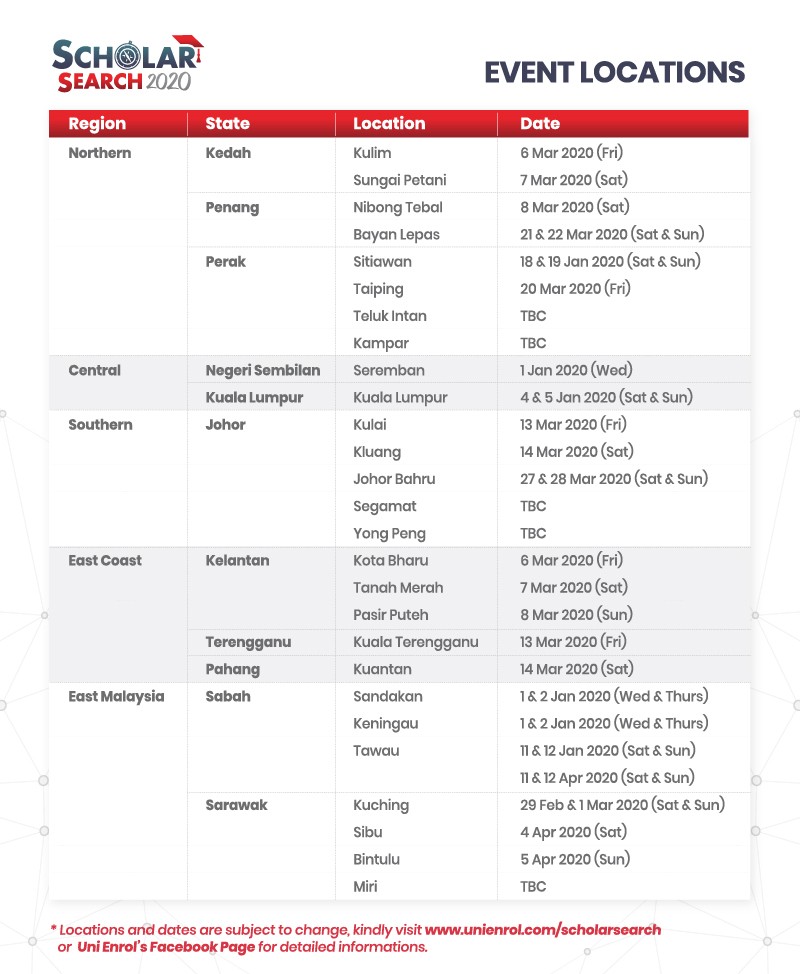 If you are unsure whether you should attend, come check out what we've done and how it has impacted over 600 students from all over Malaysia! Parents and teachers are welcomed too!
Once you have decided which course to apply, we'll walk you through the process and assist you when needed. Best of all, you don't pay us anything! Eligible students even get exclusive savings so be sure to attend our Scholar Search.
Visit us at https://unienrol.com/scholarsearch#join-us and register for the event nearest to you. This is your opportunity to save the most on your higher education at top universities in Malaysia!