Reluctant to take a PTPTN loan?
Borrowing so much money can be intimidating and loans often have a bad reputation for causing debt if you can't pay them back.
However, loans can also be beneficial. A PTPTN loan can help you afford better higher education opportunities if you manage it responsibly.
To help you benefit from a PTPTN loan, we debunk 4 misconceptions about PTPTN, show you how to manage your loan and avoid additional interest charges.
4 PTPTN Benefits You Didn't Know About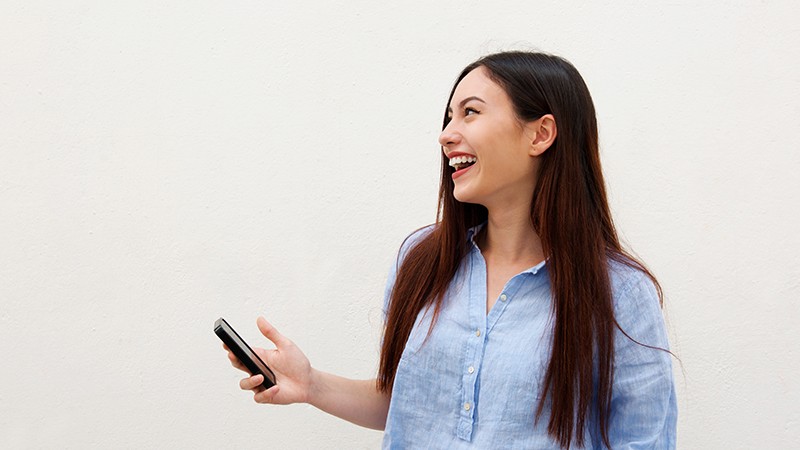 1. If I can't afford higher education, I shouldn't be spending more money on a loan.
PTPTN loans help you afford higher education and improve your financial situation in the long run.
By taking a PTPTN loan for your studies, you will be able to acquire essential skills and knowledge. This will help you access entry-level jobs with higher salaries after you graduate.
2. I shouldn't borrow money from PTPTN because it will burden my family.
PTPTN loans have a low-interest rate of 1% which can be easily paid back in small amounts after you graduate.
For example, PTPTN requires you to pay RM40 month if you're a fresh graduate earning RM2,000.
You can comfortably pay the loan back once you get your first job without relying on your family.
3. You can't negotiate with PTPTN for more time to pay them back.
If you're struggling to repay PTPTN loans, it's perfectly acceptable to negotiate with PTPTN on your repayment duration, as long as you pay it back.
PTPTN recommends that students who owe PTPTN less than RM10,000 complete their repayment within 5 years.
Students owing RM10,000 to RM22,000 should repay in 10 years and those owing RM22,000 to RM50,000 should repay in 15 years.
Students who owe more than RM50,000 can pay within 20 years.
Caution:
PTPTN loans need to be repaid. Students who don't repay their loans are banned from leaving the country, blacklisted by the Central Credit Rating System and could face legal action.
This means you won't be able to travel overseas for work or holidays. Banks will also be less likely to lend you money in the future for your first house or a car.
4. It doesn't matter how soon I repay my PTPTN loan.
While there's nothing wrong with repaying your loan slowly, the faster you repay your PTPTN loan the less interest you're charged.
For example, taking 10 years to pay a PTPTN loan of RM14,000 means you'll be charged RM1,400 in interest by PTPTN.
However, if you take 5 years, you will only be charged RM700 which is half the interest amount!
Want to know more about PTPTN loans? Read our easy PTPTN Guide to find out more and learn how to apply for a PTPTN loan in 5 simple steps!
How To Save On PTPTN Interest Charges
To save on PTPTN interest charges, you'll need to understand interest rates and plan how much you'll be paying to PTPTN.
PTPTN loans charge a 1% flat interest rate. This means you are charged 1% of your original loan amount. This amount is multiplied every year until the loan is completely paid off.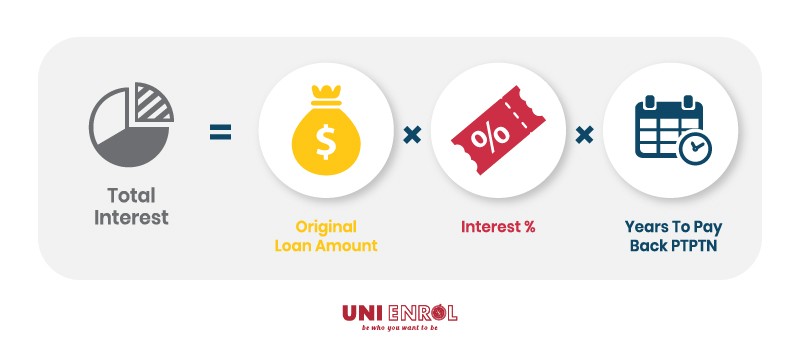 The example below shows a student who borrowed RM12,000 from PTPTN.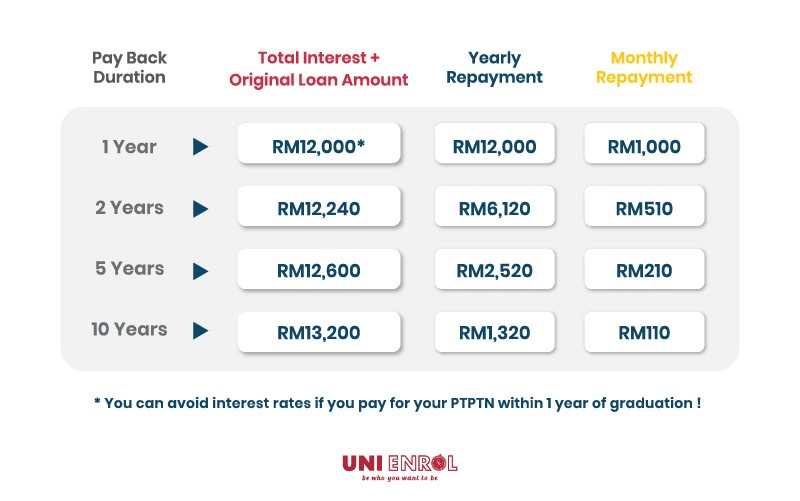 Based on the diagram, the student has several ways of repaying PTPTN after graduation.
He can make small monthly repayments with his own income to avoid burdening his family. However, it will take longer to fully repay the loan.
Another option is to share the cost of bigger monthly repayments with his family. This helps him avoid additional interest charges and settles his loan quickly.
Now that you know how to calculate, you can create your own PTPTN repayment plan and decide which options are best for you.