You will come across business in every aspect of your life, from the moment you were born. If you see a business degree as your path to success, then read on!
Come find out what the fields of business are, the minimum requirements for the courses and the universities that offer such courses.
What is Uni Enrol?
Uni Enrol is an online platform that matches you with courses, scholarships and bursaries. Drop us a message and let us guide you to the best deal for your education.
What is Business?
Put simply, a business is an entity made up of a group of people with the goal of generating profit through goods and services to consumers.
However, the study of business is on the application of ideas and how you create value for the goods and services you provide to consumers.
Why Consider Business?
You will develop a broad range of essential knowledge during your course, whether it's about marketing, management, finance, or technology.
That essential knowledge, coupled with the critical skills you learn throughout your course, means you will be in demand among employers.
Business will open many career options for you, since you are not limited to the business, accounting, and finance industries.
Fields of Business
In the study of business, there are many specialised fields. Below are 5: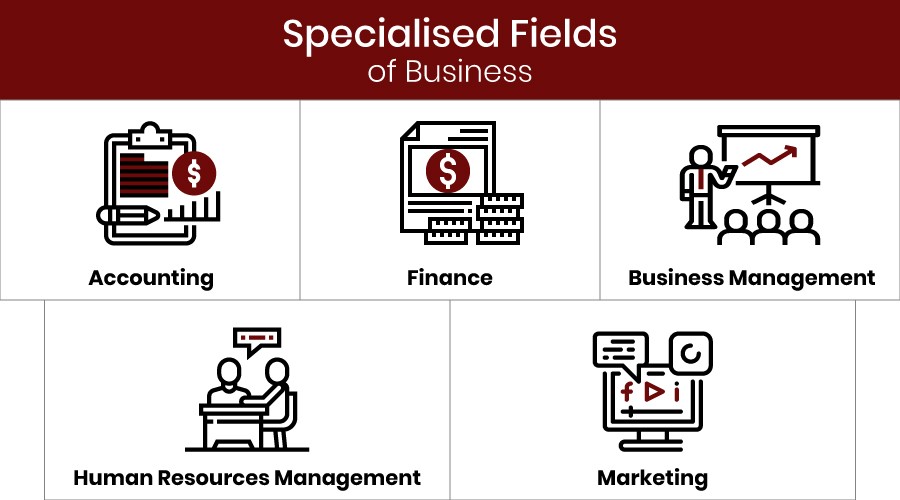 Accounting
Accounting teaches you how to assess the health of a company. You will pick up valuable skills in bookkeeping, auditing, and financial reporting.
Finance
Finance teaches you how to manage money and wealth. You'll get to build up skills in funds allocation, investment, and weigh financial risks and rewards.
Business Management
Business Management teaches you how to plan, organise, and lead employees to reach the desired goals. You'll learn about the markets, finance, and also operations.
Human Resource Management
Human Resource Management teaches you how to manage employees effectively. You'll dig deep into organisational behaviour, people management, and business ethics.
Marketing
Marketing teaches you how to craft a company's message to the market to build trust and loyalty. You'll get to analyse consumer demand and customise your company's message to meet market needs.
Got a Question?
Did you know that you are eligible for a scholarship with just 5As? Drop us a message and we'll match you with the right scholarships and deals!
What Does Your Education Pathway Look Like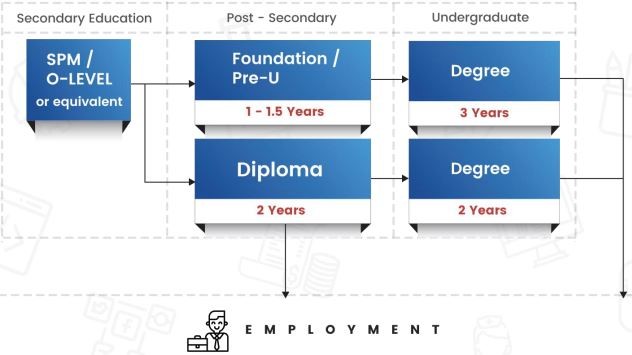 Minimum Requirements for a Degree in Business
| | |
| --- | --- |
| STPM | Minimum of 2Cs |
| Foundation/Diploma | Minimum CGPA of 2.0 |
| A-Level | Minimum of 2Es |
| Canadian Pre-U | Average of 65% in 6 subjects |
| AUSMAT | Minimum of ATAR 50 (with credit in Maths) |
Which Universities Offer Good Business Degrees
1. Taylor's University

Available courses:
Tuition fee per year:
RM24,000 (Foundation)
RM24,000 (Diploma)
RM33,100 (Degree)
2. INTI International University & Colleges

Available courses:
Tuition fee per year:
RM18,005 (Foundation)
RM16,100 (Diploma)
RM26,600 (Degree)
3. KDU Penang University College

Available course:
Tuition fee per year:
RM13,290 (Foundation)
RM15,500 (Diploma)
RM20,000 (Degree)
4. UCSI University & Colleges

Available courses:
Tuition fee per year:
RM18,000 (Foundation)
RM15,800 (Diploma)
RM19,400 (Degree)
5. Swinburne University of Technology

Available courses:
Tuition fee per year:
RM16,300 (Foundation)
RM16,000 (Diploma)
RM23,000 (Degree)
6. International University of Malaya-Wales

Available courses:
Tuition fee per year:
RM12,000 (Foundation)
RM16,000 (Degree)
Please note the fees shown are an estimation.
Let Us Help You!
Uni Enrol is also offering a RM300 bursary when you apply through us. We'll top up an extra RM200 when you refer a friend to apply together.
Come speak with our counsellors and we'll help match you to these scholarships and bursary!